Days Out From The Lodge - Durness and Kinlochbervie
It's Time To Slow Down
Just a short distance from Inchnadamph lies a world of discovery. We regularly recommend that visitors stick around for a few days before returning to their NC500 route, and they never regret doing it! As enthusiastic fans of slow tourism, we encourage our guests to unplug from the rigours of the N500 to connect with the wonders on their doorstep.
We'd like to focus on a day trip we personally really love - Durness and Kinlochbervie. This is a very doable daytime adventure for thrill seekers, foodies, and landscape lovers.
Two Destinations, One Great Day Out
Embarking on a day trip from Inchnadamph Lodge is always a treat, as you traverse breathtaking landscapes, encounter hidden gems, and soak up the charm of the northernmost reaches of mainland Scotland. Your invigorating journey will encompass a dramatic drive, stunning coastal vistas, unique craft villages, geological wonders, thrilling activities, and culinary delights. So buckle up and get ready to explore the picturesque destinations of Durness and Kinlochbervie.
Durness - A Coastal Paradise
The mainland's most north westerly village, Durness is a scenic drive of approximately 1 hour and 15 minutes from Inchnadamph Lodge.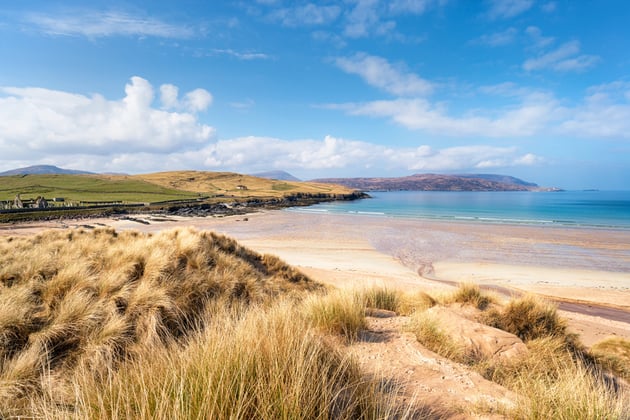 Balnakeil Beach
Upon arrival, head straight to Balnakeil beach for a leisurely stroll along captivating white sands and over magnificent grassy dunes. This unspoiled crescent-shaped beach is peaceful and the waters are perfect for a dip. For a snapshot of days gone by check out the ruins of the abandoned 17th century Balnakeil church. Fancy an even more breathtaking view? Hike out to the headland overlooking Cape Wrath and immerse yourself in the rugged beauty of the region.
Balnakeil Craft Village
If you prefer pottering to hiking, then you'll love Balnakeil Craft Village. A unique enclave where local artisans have transformed Cold War substations into creative spaces, take plenty of time to browse through their studios, marvel at their craftsmanship, and perhaps find a special memento to take home.
Smoo Cave
A visit to this natural wonder could very well be the pinnacle of your day trip. A geological marvel set into limestone cliffs, atmospheric Smoo Cave is one of Britain's largest sea caves. For a truly authentic experience, we recommend a guided tour, where you'll descend into the depths of the cave to witness the power of nature's forces first hand. If you're feeling peckish after your cave experience, check out the delightfully named and very popular 'Cheese 'N' Toasted' van, conveniently located nearby, and the Smoo Cave Hotel which offers a charming and cosy dining experience.
Ceannabeinne Beach
Seated at the foot of imposing Beinn Ceannabeinne, Ceannabeinne beach, with its white sands and crystal clear waters, is a mecca for adrenaline junkies. Here, you can unleash your adventurous spirit by trying the Golden Eagle zipline, soaring through the air with panoramic coastal views as your backdrop.
Kinlochbervie - Coastal Serenity and Culinary Delights
Next stop on your detour from the NC500 is Kinlochbervie, a fishing and crofting community that's a hidden gem just waiting to be discovered. The journey takes approximately 60 minutes from Inchnadamph and 35 minutes from Durness, but fear not, the enchanting scenery along the way will make the time fly by. You may even spot a minke whale!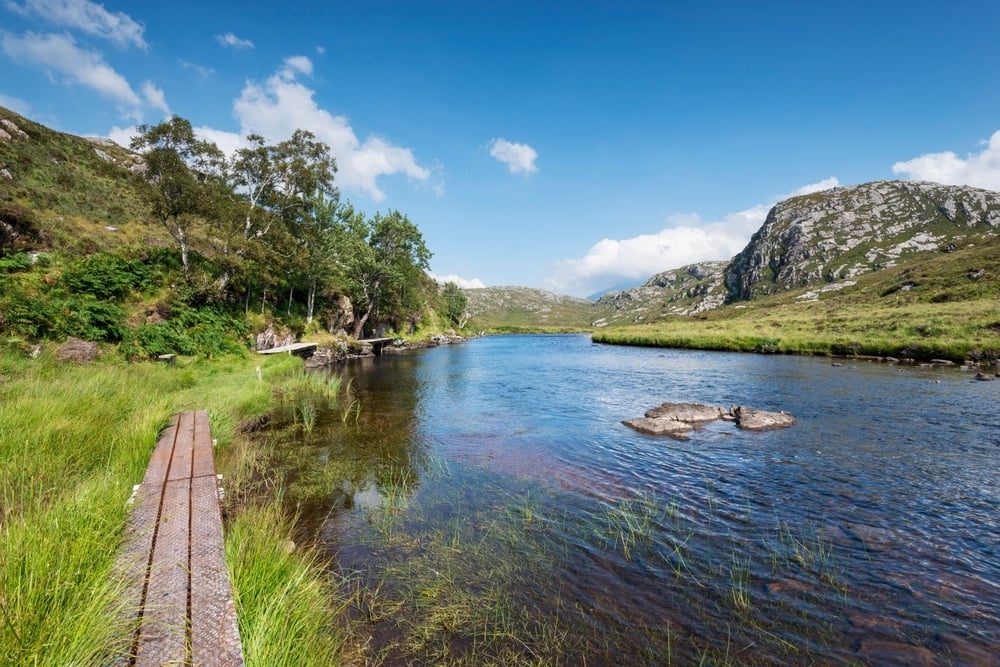 Laxford River
Break up your journey by taking a refreshing walk along the tranquil Laxford River, immersing yourself in the soothing sounds of nature. As you approach Kinlochbervie, prepare to be mesmerised by the stunning beaches of Oldshoremore and Polin. Take a moment to breathe in the salty air and admire the pristine shores.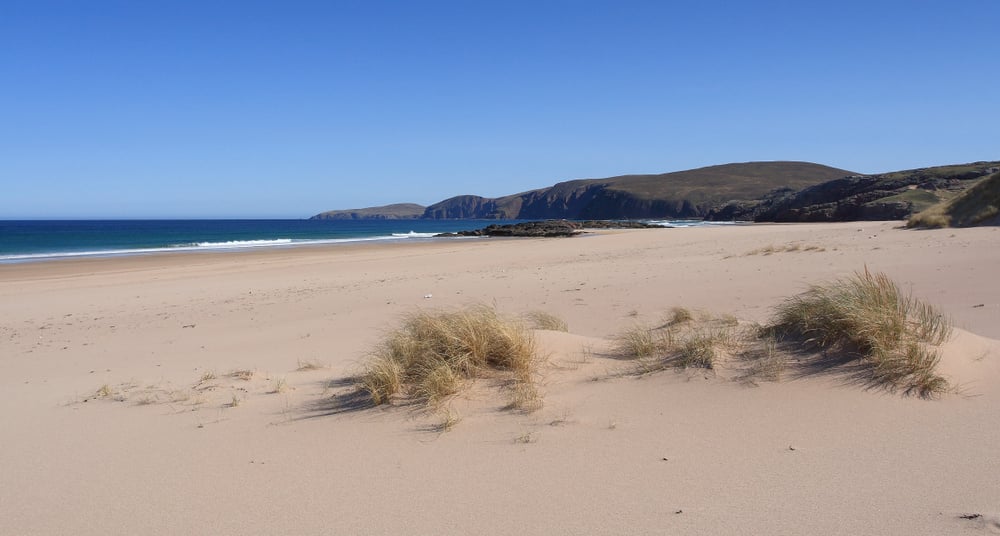 Sandwood Bay
For those with a penchant for adventure, consider extending your day trip to visit breathtaking Sandwood Bay, considered by many to be Britain's most beautiful beach.
Don't forget to tickle your taste buds with a visit to the Highland Charcuterie and Smokehouse in Kinlochbervie. Indulge in their exquisite artisanal lunch snacks, showcasing the finest local flavours.
When it's time to dine, options abound in Kinlochbervie. The Old School Restaurant offers a delightful gastronomic experience, while the Quay House provides not only a delectable meal but also a gift shop to peruse.
As your day trip draws to a close, ensure you refuel at the local petrol station, ensuring a smooth journey back to Inchnadamph Lodge.
Life Off The NC500
A day trip to Durness and Kinlochbervie is a great way to gently immerse yourself in life off the NC500. From the dramatic drive to the breathtaking coastal vistas, from exploring craft villages to marvelling at geological wonders, and from indulging in thrilling activities to savouring culinary delights, this journey captures the very best of the Sutherland region.

Book your holiday at Inchnadamph now and start planning your Assynt adventure!